Jesse Hoff, Agrigenomics Product Manager - Jun 02, 2022
The First EPD for Bovine Congestive Heart Failure from Simplot and Gencove
Bovine Congestive Heart Failure (BCHF) is a growing source of economic loss associated with mortality prior to harvest. Simplot, powered by the Gencove software platform, has developed a robust prediction model and novel EPD to provide tools to the cattle industry that will allow the selection and propagation of cattle less likely to experience morbidity and mortality losses associated with BCHF.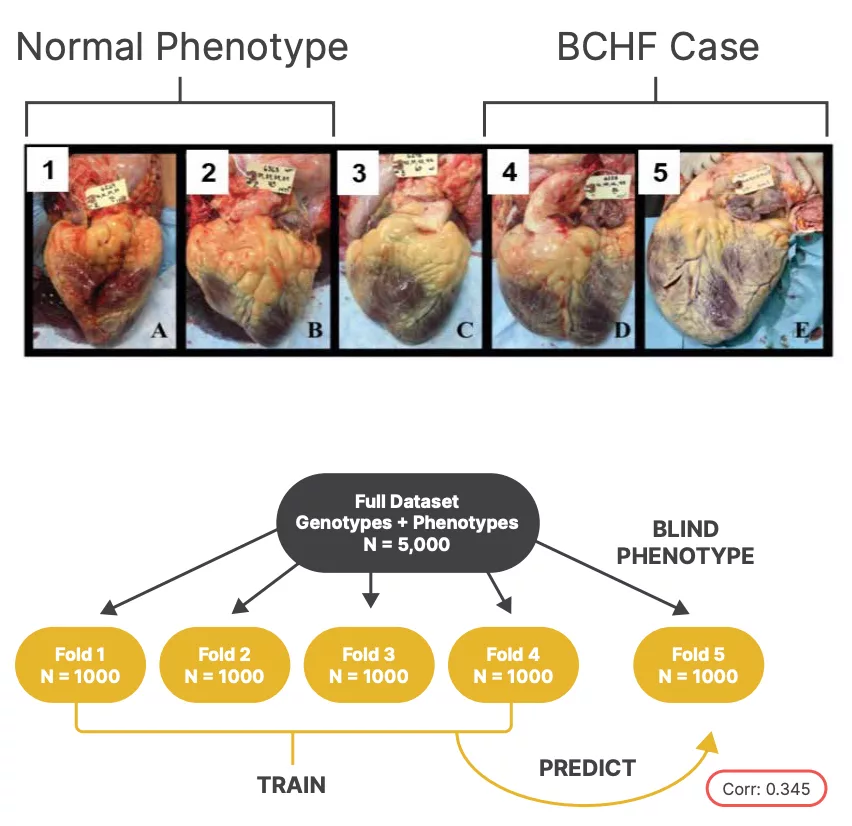 Building and Validating the EPD
A population of 20,000 calves from multiple terminal-sire breeds were phenotyped at harvest using a cardiac scoring system to understand the incidence of BCHF in commercial feedyards. Over 5% of the calves in this study were classified as a BCHF case. This data collection effort uncovered the dramatic prevalence of this syndrome in the US cattle population and indicates a critical need for robust solutions.
A low-pass whole genome sequencing and genomic evaluation approach demonstrated a heritability estimate of 34% for BCHF, indicating a significant genetic component similar in magnitude to important heritable carcass traits including marbling and carcass weight. Blinded and replicated validation of a genomic EPD calculated from this population indicates a moderate to high prediction accuracy is possible across multiple breeds.
Partnering with Innovative Breeders
Partner with us to help understand which breeds and populations are at the highest risk
With a model developed utilizing low-pass sequencing, EPDs can be predicted from any low or high-density commercially available SNP genotype panels. Predictions can be created for any of the major breeds, with significant variation observed within the breed classes shown.
The use of an extensive database of phenotypes and low-pass sequencing genotypes to create a genomic EPD drives a prediction of the proportion of a bull's calves that will be at risk for developing congestive heart failure.


Please reach out if you would like more information or to join a network of innovative breeders evaluating their bulls using a congestive heart failure EPD.