David Neuman, Head of Plant and Animal Genomics Sales - Aug 23, 2022
The Importance of Speed in Plant and Animal Breeding
The adoption of high-throughput molecular breeding techniques highlights a growing need for fast, large-scale genotyping methods. When processing thousands to millions of samples per year, it is important to evaluate genotyping options for speed and efficiency.
Reducing the time to set up a new species
The Gencove low-pass sequencing and analysis platform has the speed to support genotyping needs at any scale and can be set up and ready for use in just a few weeks.
Because the Gencove platform is software-based, creating a pipeline for a new species is streamlined. First, a selection of samples that represent the diversity of the species of interest are chosen and sequenced to moderate coverage. Then, the Gencove team performs joint variant calling and haplotype phasing using a reference genome of your choice. A haplotype reference panel is then implemented to enable genotyping from future low-pass sequenced samples. The entire process only takes about a month, significantly reducing the time to implement a new genotyping pipeline compared to microarrays.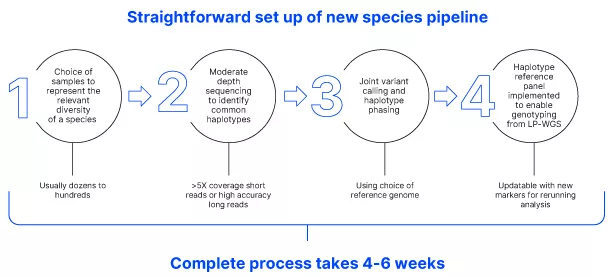 For example, Gencove implemented a new maize genotyping pipeline for Syngenta utilizing several hundred sequenced individuals that represented the diversity of the species. In under a month, a reference panel was set up and ready to be used for low-pass sequencing and imputation.
Highly accurate genotype calls when you need them
Once you have selected a ready-to-use reference panel or built one for your species of interest, there are two ways to generate your low-pass sequencing data. Gencove has partner labs equipped with high-throughput sequencing capabilities and automated library prep for maximum output and efficiency. Typical turnaround times for several thousand samples through our partner labs is less than 4 weeks, which is comparable to the turnaround time of most microarray assays.
Alternatively, you can reduce this time by bringing the sequencing portion of the workflow into your lab. New sequencing platforms coming onto the market make sequencing more cost-effective and accessible. For example, we recently validated the performance of Element Bioscience's AVITI System as an input to the Gencove platform. The Gencove platform is hardware agnostic so we can work with you to optimize your sequencing setup and maximize your throughput.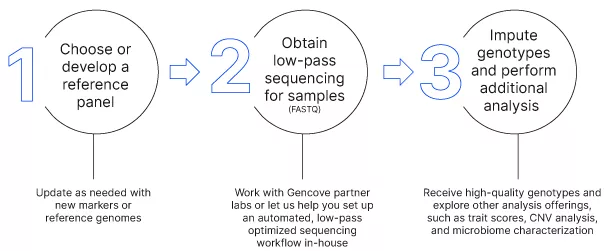 From genome variation to physical traits with speed and efficiency
Gencove's low-pass whole genome sequencing platform imputes millions of functional variant genotypes without the extra time and effort of variant selection, probe design, and call training associated with developing SNP arrays. Our software-first approach to genomics enables the throughput to scale with your breeding program without slowing down your discoveries.


If you'd like to learn more about low-pass sequencing and the Gencove analysis platform, please contact us.